Playing Conan Exiles in early access felt, at times, just like being stuck out in the wildlands.  There is little in the way of a tutorial or explanation and you're left to wander the world.
The survival sim, set in the fictional lands made famous in the Conan books and movies, has been in early access since February and is constantly updated, with plans to majorly support the game going foward via new expansions.
The general idea here is to survive, build, and dominate as you strive to carve out a space of your own in a hostile environment based on the world that Robert E. Howard created for his series of books.  The game dumps you in the wastelands with very little on the horizon bar a set of stones guiding you towards them.
Hostile is certainly the word to use here.  Right from the beginning you're starting with nothing but the rags on your back and some stones and fauna to craft rudimentary buildings.  It's not long before you come across an oasis teaming with wildlife, some of which can be eaten by you and some ready to make you their next meal.
The key is to build shelter, weapons and then find food and water.   Rapidly depleting bars show your need for these basic things and even the weather seems to be against you.  Thankfully, crafting is fairly straight forward and will be very familiar to fans of Ark: Survival Evolved, right down to the way buildings are pieced together from walls, doors and roof parts.
My early game involved being chased around by large crocodile creatures while just wanting to get a drink, then running in to an enemy tribe by accident and running away from them.  In my experience there is a lot of running away when you first start playing.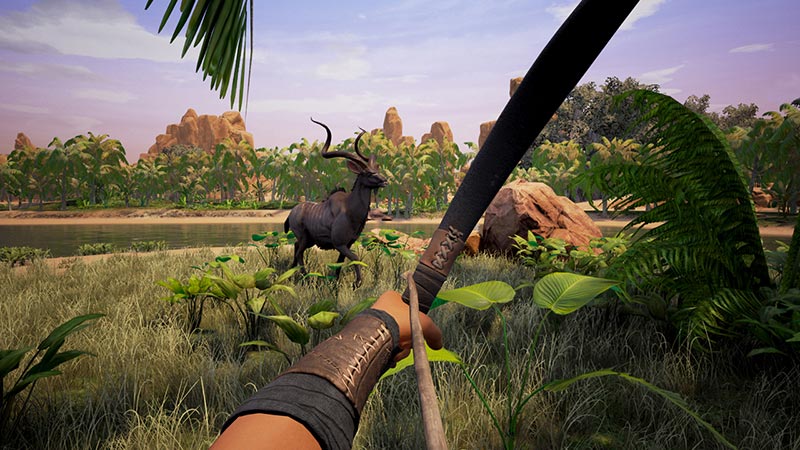 When you do get your legs in the game it really opens up.  There's a heavy leaning on PVE play where raiding NPC camps and working as a team to set up your own base is a big part of staying alive, upgrading your kit and ruling the land.
Graphically, too, it's far more polished and looks stunning in places, not that you often have a lot of time to stop and take in the scenes until you're comfortably surrounded by good fortifications and helpful teammates.
Of course, this is still early access and there are glitches around plus elements that feel like they need to be more fleshed out.  Thankfully, there are regular updates and big plans for the game, including an Xbox One release some time in August.  But for an Early Access game Conan Exiles is pretty impressive, all the same and well worth getting into if you're a fan of the genre.