Nintendo's next console, the Switch, is an interesting idea; a hybrid handheld and home console in one.  But what exactly is it, what do you get with it and what games are coming out for it?  Find out here.
Nintendo Switch is launching in many countries, including the US, UK and most of Western Europe on Friday March 3rd.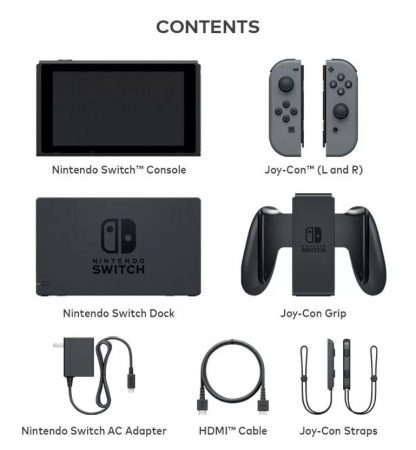 What's in the box?
The box will come in two different versions with the only difference being the colour of the controllers, which Nintendo are calling Joy-cons.
Inside the box you'll get the main Switch console, a handheld that looks a lot like a thick tablet, 2 Joy-con controllers, a joy-con grip, the dock, power supply and manuals, plus an HDMI cable and some straps to avoid launching your joy-cons into the TV.
How do you play Switch?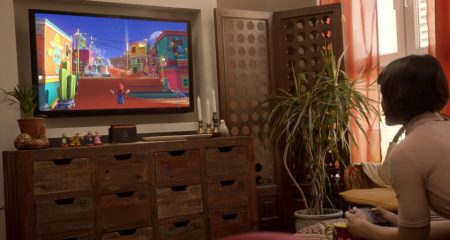 The console can be played in three ways; firstly in the dock on the TV, like a regular console. You can either use the Joy-cons on their own (useful for motion games in a similar way to the Wii controllers) or linked to the Grip as a regular controller.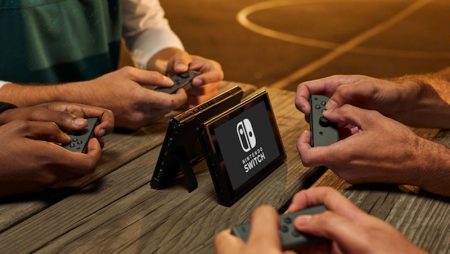 Secondly, you can take the Switch out of its dock, place it down (there's a built in stand) and use it like a portable TV or tablet with the Joy-cons still separate.
This mode will be useful for multiplayer games when you're away from your TV.  It's also possible to charge the Joy-con controllers if you use them in a charging grip (sold separately from the main bundle)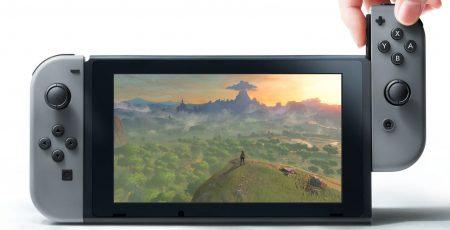 Lastly, the Joy-cons can attach to each side to enable it to be used as a handheld, a bit like the 3DS.
This mode will allow you to play on the go, though the Joy-cons won't charge while playing in this way.
As you can see, Switch is very versatile and Nintendo are trying to show this through their adverts prior to launch.
What do the games come on?
Games for the Switch come on cartridges similar to those used by the 3DS. You can see an example of this below.  You can also download games on to the 32GB memory or use a Micro SD card up to 200GB to store games.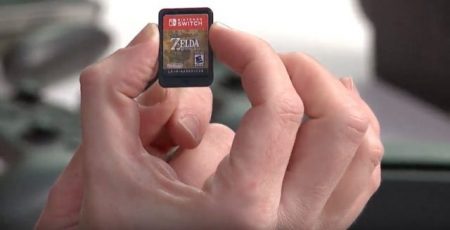 What are the launch games?
New games are being added right up until launch, but the ones we know so far are;
1-2-Switch
Fast RMX
Just Dance 2017
Human Resource Machine
I Am Setsuna
The Legend of Zelda: Breath of the Wild
Little Inferno
Shovel Knight Specter of Torment
Shovel Knight: Treasure Trove
Skylanders: Imaginators
Snipperclips
Super Bomberman R
World of Goo
New indie games are being announced on Tuesday February 28th at 5.30pm GMT.
How big will downloadable games be?
Nintendo recently revealed the launch game file sizes, with most games weighing in at under 15GB, some are even just over 1GB in size.
The Legend of Zelda: Breath of the Wild – 13.4GB
Mario Kart 8 Deluxe: 7 GB
Snipperclips: Cut It Out, Together: 1.6 GB
Disgaea: 5: 5.92 GB
Puyo Puyo Tetris: 1.09 GB
I Am Setsuna: 1.4 GB
Nobunaga's Ambition: 5 GB
Dragon Quest Heroes I·II – 32GB
Note how the Dragon Quest games are very large compared to the rest?  We're not sure if this is an error or just the fact that there are 2 games included, each weighing in at around 15GB each. It does sound odd when The Legend of Zelda is less than half the size, though.
Switch Technical Specs
For those who want a more detailed drill-down of the Switch hardware, check Nintendo's own spec sheet below.
Size
102mm x 239mm x 13.9mm (with Joy-Con attached)
Please note: 28.4mm at the thickest, from the tips of the analogue sticks to the ZL/ZR Button protrusions.
Weight
Approx. 297g
(With Joy-Con controllers attached: 398g)
Screen
Capacitive touch screen / 6.2 inch LCD / 1280×720 resolution
CPU/GPU
NVIDIA customised Tegra processor
System memory
32 GB
Please note: a portion of this internal memory is reserved for use by the system.
Communication features
Wireless LAN (IEEE 802.11 a/b/g/n/ac compliant) / Bluetooth 4.1 (TV mode only. A wired LAN connection is possible through the use of a commercially available wired LAN adapter.)
Video output
Maximum resolution: 1920×1080, 60 fps
Please note: output via HDMI cable in TV mode. In tabletop mode and handheld mode, the maximum resolution is 1280×720, which matches the screen resolution.
Audio output
Supports linear PCM 5.1ch
Please note: output via HDMI cable in TV mode.
Ports:
USB terminal
USB Type-C terminal (Used for charging or for connecting to the Nintendo Switch dock.)
Headphone mic. jack
Stereo output
Game card slot – Exclusively for Nintendo Switch game cards.
microSD card slot
Compatible with microSD, microSDHC and microSDXC memory cards.
Please note: an update via an internet connection is required to use microSDXC memory cards.
Sensors
Accelerometer / gyroscope / brightness sensor
Operating environment
Temperature: 5 – 35°C / Humidity: 20 – 80%
Internal battery
Lithium ion battery / battery capacity 4310mAh
Please note: the internal battery cannot be removed. If the battery needs to be replaced, we plan to offer paid replacement via
Nintendo Customer Support
.
Battery life
Battery life can last for more than six hours, but will vary depending on the software and usage conditions.
For example, The Legend of Zelda: Breath of the Wild can be played for roughly three hours on a single charge.
Charging time
3 hours approx.
Please note: this is the time taken to charge while the console is in sleep mode.