The W1210ST projector looks like something special the moment you take it out of its carefully crafted case.  The all white surround is punctured by a sharp red ring around the lens and another on the controls at the top.  It's clearly aiming for gaming aesthetics, perhaps channelling Portal in the process.
Make no mistake, projectors have got it tough in the current world.  4K TVs are dropping in price and 4K itself is the new buzzword in the console world, with both PS4 Pro and Scorpio pushing the format.  So what can an unashamedly 1080p short throw projector bring to the table?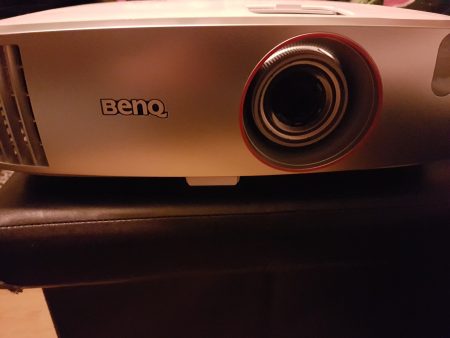 Well, for one it has a much bigger screen, somewhere around 250cm plus if you position it right, and because it's Short Throw you don't have to have a room the size of a cinema to achieve this setup. Once you see a good projector used for gaming ,you'll want one yourself.
Setup is easy out of the box.  Plug in an HDMI cable, plug in the power and away you go.  I'ts about as plug and play as you can get from this.
There are certainly enough connections if HDMI doesn't float your boat, too.  You actually have 2 HDMI ports, a D-Sub port and VGA as inputs., built in speakers and earphone and audio in jacks for sound.
Once the top focus wheel is figured out and you have a good, clear picture (it's a great improvement over previous systems that feels a lot more accurate for finding the right focus) that's pretty much it, other than actually getting down to the business of playing.  Focus itself is good with some good colour output, too, as long as you dim the lights, that is.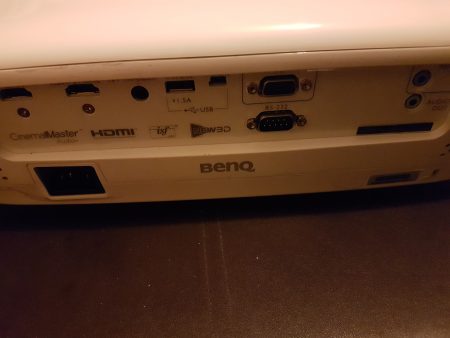 With modern TV manufacturers getting wise to the need for better input lag, the lower the better, BenQ comes along and provides a great option for this projector with their Fast Mode setting, which really does noticeably cut down the lag and provide a buttery smooth experience.  It's listed at around 10ms, it feels a lot better than any other projector I've used for gaming.  My tests hit around the 11ms mark, so that's a pretty accurate listing, too. To put it in to context, most decent TVs still only have 20ms and above response times, so it's a big plus for this BenQ.
Playing for a while, the unit did get a little hot and I had to move it from a leather stool onto a better surface, but fans remained loud, pushing the heat out at the same time.  It shouldn't be an issue for gaming unless you're sat right next to the device, but it's worth noting that this does make a loud noise when the fans are going full blast.  That said, I've heard worse from other projectors.
One thing you will need is a good wall or projector screen. Although not as much a requirement as with other projectors, it's still safer to find a lightly covered wall for the best output.  Again, because of the excellent short throw this should be an easier task when finding a position that fits both your room setup and the size and position of the screen or wall you are using.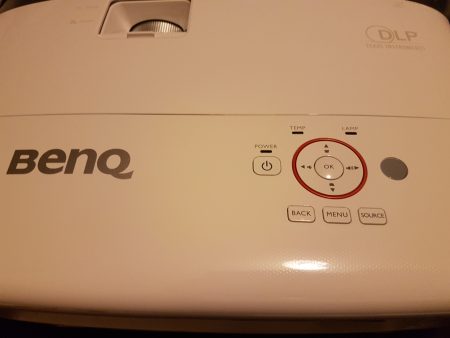 The distinctive red ringed input buttons provide all you need for getting through the menus, as in as you can find them in order.  It's here that you can change colours and hue, get Fast Mode up and running (you can flip between having this on and off maybe for movie watching).
Colours were surprisingly clear with Steep's whites showing all their spender on PS4 and contrast is handled well in open world games like Wildlands where a mix of bright outdoor colours need to quickly give way to darker indoor areas.  Game Bright mode enhances games for lighter rooms so you don't always have to go with the cinema atmosphere and the danger of tripping over stuff in the dark.  It works surprisingly well to raise the colour levels to a degree where gaming on the projector is pretty comfortable even in normal light conditions.
Sound is a little less impressive with only 2x10W speakers that aren't able to compete with a decent sound system but still sound as good as a regular TV.  The sound is able to appear more dynamic thanks to the same carefully placed air holes used for ventilation.
If you can get a good wall and a good lighting system, the BenQ W1201ST looks and feels fantastic.  It's a little bit of an extra expense over a TV but you've not lived until you've been gaming on a fast 200cm or bigger screen.  It's our new favourite gaming projector.