The Gigabyte P57X v6 is an interesting development, coming just 6 months after their last laptop, the P57W and pretty much the same spec in all but graphics.  But it's also an indication of how important Nvidia's Pascal cards are in the laptop space.
Everything from the case to the ports looks the same as the P57W, the new i7 6700HQ Skylake CPU is still one of the fastest mobile processors out there and well suited to gaming, while the DDR4 2133 RAM should prove ample.
Only the 1080p monitor looks a little long in the tooth for today's standards, though it helps to keep frame rates and detail on their highest settings.
It's the graphics card that steals the limelight, then.  The new Pascal GTX 1070 is not just a lower powered laptop version of the desktop card, it's pretty much the same as the cards you'll find in a tower case.  As such, it's a huge step up from the laptop specific 970M from April's model and it's a killer in terms of laptop gaming.
Ports and Connectivity
As with the previous model from earlier this year, Gigabyte's new laptop is well catered for in terms of ports. Three USB 3.1 ports are joined with a forth USB 3.1 Type-C port, which should be ample.
Video output comes from either HDMI, mini-DisplayPort or VGA. It's interesting to note, though, that Gigabyte haven't seemed to go for an obvious VR headset supporting range of ports, though.  2 HDMI ports would have been welcome.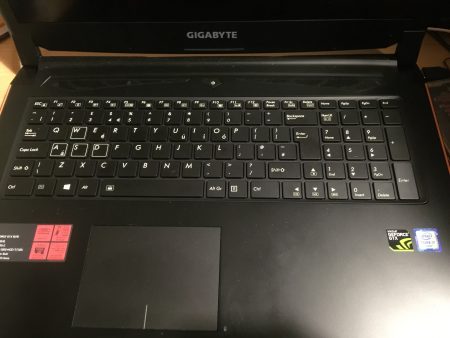 There's also an SD card slot for quick access to camera, phone and tablet data and standard earphone and mic ports.
A removable DVD-RAM drive is another interesting option, with physical media on the way out and digital certainly becoming the norm on PC, it's an extra weight, but it's removable and you can always replace it with an extra SSD drive.
The laptop sports both Wireless, via the Dual-Band Wireless-AC adaptor, and Ethernet, both of which worked well and instantly connected to several different networks without issue.
The speakers aren't anything to write home about, unfortunately.  There's little bass and the 2 speakers just don't produce the sound we've had from other laptops containing subwoofers or dedicated gaming speaker setups.
Screen
As already mentioned, the laptop comes with a 17.3″ anti-glare 1920×1080 IPS screen.  There's a good argument for keeping to the HD resolution, though; laptop power is at a premium when on the battery and as new games take more advantage of the Pascal cards, the resolution should ensure that this device can still run games at decent detail and framerates for some time to come.
Couple this with the ability to output to a 2K or 4K screen if you really want to make the upgrade and it makes more sense.
Thankfully, the screen quality is excellent with good brightness and contrast on the matt finish helping it to work well in brighter, outside conditions.
Battery
I managed to get almost 2 hours battery while pushing the laptop for gaming, which is about average for a gaming laptop with this much power.  It's probably best to carry the mains charger around with you, though if you're going to be using it for a long session.
Outside of gaming, the laptop managed around 3 and a half hours in normal use, less than I expected but this did include watching videos, which may have shortened it somewhat.
Gaming Benchmarks
Despite the fact that the standard external casing seems a little over familiar, it's in the actual usage where the new P57 really sets itself apart.
Our Shadow of Mordor test at 1080p on Ultra gave us an average of 117.1FPS, slightly overkill for most gamers.  The screen obviously limits play to 1080p unless a monitor is connected.
GTA 5 got 64.7 FPS on Ultra at 1080p and an impressive 53.4 FPS at 3840×2160.
CPU heavy title The Witcher 3 (with Hairworks off) managed 56 FPS on average during our Ultra 1080p test, with some dips in more intensive areas of the game, though not very noticable ones.   Running it at 3840×2160 gave us an average of 34 FPS, though this could be improved by removing some of the other effect settings.
3DMark
A Firestrike test brought back a hefty score of 15,705, showing just how powerful this is over the equivalent older P57 with its 970M card, which achieved 6,724
While the screen is only 1080p, you can use the P57 with an external 4K monitor.  Testing Firestrike Extreme, which gives a good indication on whether 4K is viable, we got a score of 8,355.
In Use
Cooling works well on the underside of the Laptop, allowing it to remain comfortable (though we still wouldn't recommend keeping this directly on your lap) but we did find the centre of the keyboard heating up quite a bit during some intensive gaming, leading to a slightly uncomfortable gaming experience when using keys.
Speakers are adequate but given the top spec of the rest of the laptop, a little disappointing in their bass levels and overall effect.
Conclusion
Gigabyte's latest P-series may look the same as before but it hides an impressive turn of speed thanks to the new Pascal card and still manages to run fairly cool at the same time.  The already hefty CPU and fast DDR4 RAM help to make this laptop a powerful force without sacrificing too much in battery life.
Gigabyte P57X v6 Gaming Laptop