BenQ ZOWIE's XL-series is geared towards e-Sports, but that's great news for PC gamers everywhere.
According to their literature, the Zowie XL models are "fine-tuned to guarantee the smoothest and responsive experience, and the clearest images to arm you for competition.".   After testing the 2430 it's hard to disagree.
The 144Hz monitor is currently retailing for £330 on Amazon, which initially seems like a lot for a Full HD monitor, but the increased refresh rate really makes a difference for serious gamers and few card setups would be able to make use of 4K and 144Hz together, plus I'd argue that at 24″ a 4K display would be wasted.  The XL2430's big brother is on hand, though, should 4K be a requirement and we'll be taking a look at this shortly.
Design
So what do you get for your money?  The design is a mostly understated black, with fairly thin bezels running around the screen and the odd red in the stand being the only thing to stand out.  That's good, it avoids the issue of being distracted from what goes on outside the screen. There are no reflections to worry about here, thanks to the matt finish.
Round the back you'll find two HDMI ports, a DisplayPort 1.2 port, required to meet the 144hz mode, DVI-DL and D-sub ports.
You'll notice that an area of the stand's base has a round cut-out. This is for the S Switch Arc, a sort of quick menu mouse for choosing screen options and a scroll wheel for the more complicated menus.  It may look a little out of place but it really does help move through menus that would normally require a lot of keypresses.
This is also useful as although the placement of the buttons on the monitor is fairly good (right hand side on the front, rather than on the side or the base as we've seen in other monitors), the menu system requires plenty of multiple presses to get the right setup.  With this 'puck' there are larger buttons and the scroll wheel feels like it effortlessly brushes through items to get to where you need to go.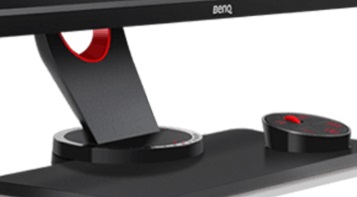 Of course, the main reason for the S Switch Arc is that it changes between modes quickly, useful if e-sports matches require several different genres of game.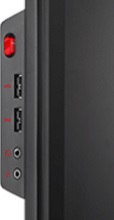 The best design feature for me, though, is that alongside the 2 handy USB 3.0 ports on the left hand side (which can be used as a hub alongside the USB in), and sensibly placed headphone and mic ports is a pull out piece of red plastic.  What, you may ask, can this do?  Well, it can hold headphones and, trust me, that's a great idea which certainly tidies my desk and makes it much easier to find headphones.
There's even a handle on the back of the stand to lift the whole monitor up in the air and carry it around (though how long your arms can take carting around a large 24″ monitor is another question entirely).
Performance and Screen
Let's not pretend otherwise, this is a TN panel, so it's not great, right?  Wrong.  The technology has been around a long time and has been evolving.  It may be a lower cost option, but this screen has some really good colours and deep blacks.  It also allows for the headline 144Hz operation and 1ms response time which are far more important to a professional gamer than the colour levels and would be something difficult to achieve on an IPS screen.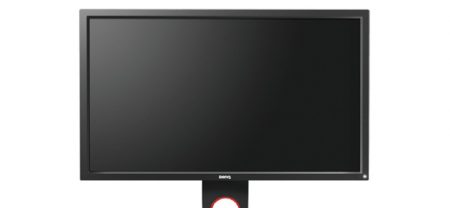 Viewing angles are pretty good, considering the panel, too, with little in the way of fading at 45 degrees, and the 1000:1 contrast seems to be met perfectly with no noticable backlight bleeding, either.
Overall Impressions
I'm really impressed by the Zowie XL2430, it has everything needed for an excellent competitive sports monitor with some interesting design features and a great response rate, alongside that all important 144Hz mode.